"Give thanks to the Lord, for He is good!  His love endures forever."  (1 Chronicles 16:34 NIV)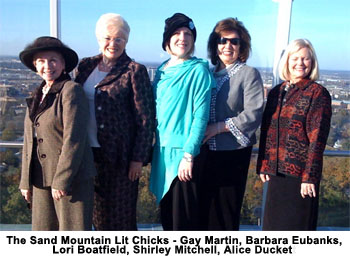 The Bible is replete with verses to remind us to be thankful.  This year, as with all the many other years of my life, I am thankful for food, family, and fun. Oh, one more f – foilage.
On November 3 I traveled back to the Pell City area to speak to a great group of senior adults at Mt. Pisgah Baptist Church at Cropwell, Alabama. On the drive, God blessed me with a feast for my eyes. The panorama of mountains and valleys glowing with yellows, reds, and orange called me to praise God.
The beauty continued. The vivid fall colors decorating each table mimicked the beauty of these seniors who knew how to enjoy a laugh.
Following that event, our November Lit Chick meeting was special.  Normally, we meet in the homes of members, but not this time.  Shirley Mitchell declared, "I could cook for you, but you  wouldn't eat it if I did."  So, she hosted us at The Club located on top of Red Mountain in Birmingham. Decked out in our finest to dine at  this exclusive club, we began our sixty mile trek to our destination.  Gay Martin and I accepted Lori Boatfield's offer to drive.  Shirley went on earlier to see that everything was in order.  Alice Duckett drove from Anniston to meet us there.